1. HARRY STYLES 
Harry and his mother, Anne Twist, are super close and in the past, when being quizzed about his mysterious love life, the 22-year-old has said of his mum, "I tell her everything, and she knows the truth".
2. BROOKLYN BECKHAM
Aspiring photographer Brooklyn regularly posts snaps of each of his parents on his Instagram account, but sources close to the family have spilled that it's Victoria and her 17-year-old son who have the closest mother/son bond. 
3. DAVID BECKHAM
Like his son, David Beckham is also a total mummy's boy. The father-of-four posted a tribute to his mother, Sandra, recently, thanking her for "being [his] biggest fan since day one]." Cute! 
4. ORLANDO BLOOM
"Best gift ever surprise visit from me mum" – the Pirates of the Caribbean star's mother surprised him for his 40th birthday last week.
5. RYAN GOSLING
Ryan Gosling has been out and about on the La La Land press tour recently, and he shared a super cute story about his mum, Donna. "[At the 2007 Oscars] my mum was convinced by her friend that beehives were gonna be all the rage. And if you didn't have a beehive, you'd feel embarrassed," he said of her first Oscars experience in 2007, which his mother and sister, Mandi, were his dates for. Well, beehives weren't the trend that year, so he found a way to make his mother feel better. "I didn't know Meryl Streep but she was sitting next to me and I said in a commercial break, 'Would you mind just telling my mum you like her hair? She was like, 'I got this'. And then the commercial went and she goes, 'Do you know, I was gonna do a beehive and I wish I had.' And my mum was like, raise the roof all night." 
6. LEONARDO DICAPRIO
We all know that Leo is a bit of a commitment-phobe, and his relationships with tall, blonde, Victoria's Secret models (under the age of 25) don't typically last too long. But one woman who is very close to the Oscar winner is his mother, Irmelin. A regular on the red carpet with her son, often with a camera in hand (cute!), Irmelin is also said to look after the finances for her son, and the Revenant actor also once said, "My mum is the only person that I would buy [diamonds] for, and for a while now she hasn't wanted one. But that isn't to say that people shouldn't buy them." 
7. DAMIAN HURLEY
Damian and his mother, Liz Hurley, are regulars on one another's social media pages and the 14-year-old has just starred on his mum's show, The Royals.
8. BRADLEY COOPER
The Joy star and his mother are super close, potentially the closest mother/son duo in Tinseltown. After the death of his father in 2011, the pair moved back in together. The 42-yearold told Details, "She's a cool chick. We can hang. And she can roll with the punches. If that wasn't the case, there's no way… My family is very close, and my dad dying was brutal for all of us. It was a schism, and its aftershock has not stopped. And we need each other. So here we are." Adding, "It's not like I live in a compound and she's in the guest house. No, she's in the next room." 
9. JUSTIN TIMBERLAKE
For her birthday last year, Mirrors singer, Justin, posted a very cute tribute to his mother, Lynn Harless, saying, "Happy Bday to my first partner in crime and the FIRST QUEEN OF THE HOUSE. We have been through so much together and I love you more than words can begin to describe."
10. BRAD PITT
"Brad Pitt's over-protective mother Jane Etta Pitt is probably even more upset than he is," it was reported of the father-of-six's mother after news of his split from Angelina Jolie went public in September. She's also said to have stepped in and prevented a split in 2015, with InTouch saying of Brad's "involved" mother, "In Jane's eyes neither Brad nor Angie have made their relationship a priority over the years. Their careers, charity work, and children have always come first. She really thinks that if they had some alone time as a couple they could make it work."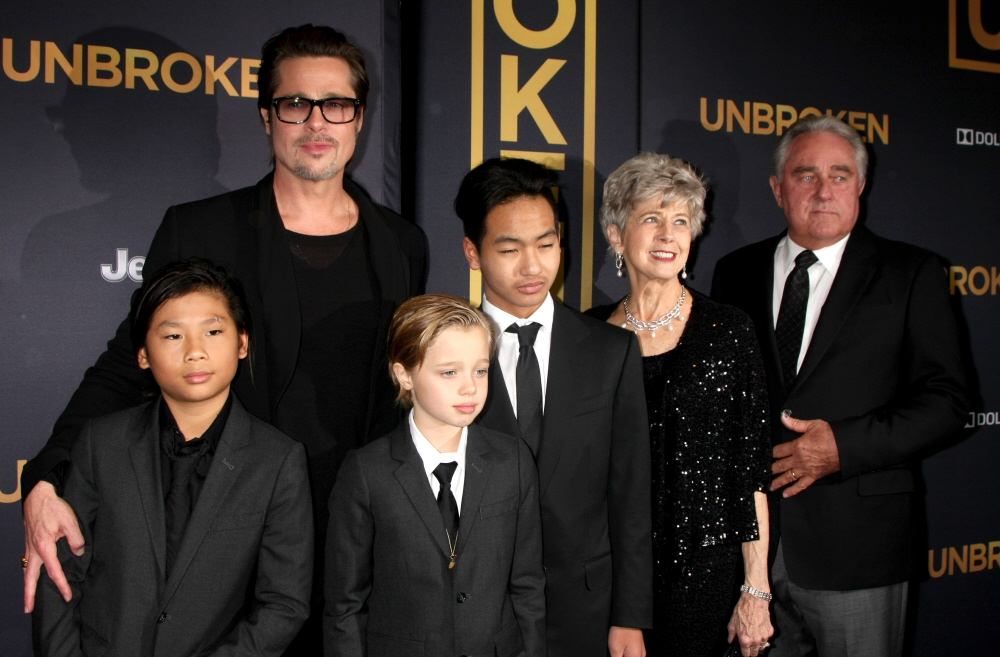 11. JARED LETO
When he won an Oscar back in 2014, Dallas Buyers Club star Jared made a very touching tribute to his 'vagabond, hippy mum', Constance. In his speech, he said, "In 1971, Bossier City, Louisiana, there was a teenage girl who was pregnant with her second child. She was a high school dropout and a single mum, but somehow she managed to make a better life for herself and her children. She encouraged her kids to be creative, to work hard and to do something special. That girl is my mother and she's here tonight. And I just want to say, I love you, Mum. Thank you for teaching me to dream."