Do you ever walk through fancy beauty halls and wonder who comes up with those eye-watering price tags? Well I do. So last week I decided to do a little experiment. I created two make-up looks, for the first I used only high street (aka drugstore) products. Every single thing I applied to my face cost less than Dhs71 - in fact, most of it cost less than Dhs45. Next I recreated the same(ish) look, but this time I used only high end make-up.
The point? Well besides it being an amazing excuse for me to play around with make-up all day, I wanted to see if anyone (both IRL and on the internet) would be able to tell the difference between the two.
With one look ringing in at Dhs2,725, and the other at just Dhs369, you'd think that the disparity in quality and finish would be kinda obvious. Dhs2,356 more obvious. But surprisingly, that wasn't the case...
The majority of my colleagues, friends and fellow beauty industry peeps, couldn't tell the difference.
Can you?
Look A: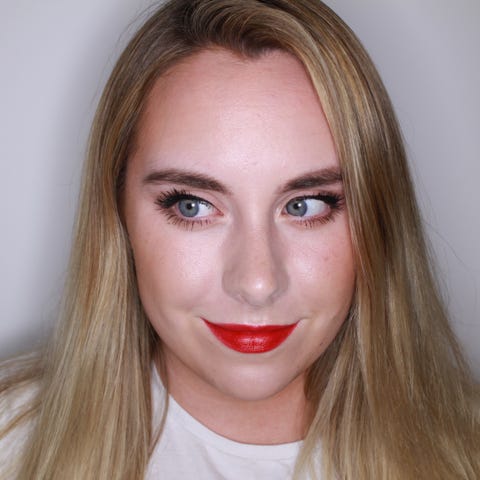 King of the Booth
Look B: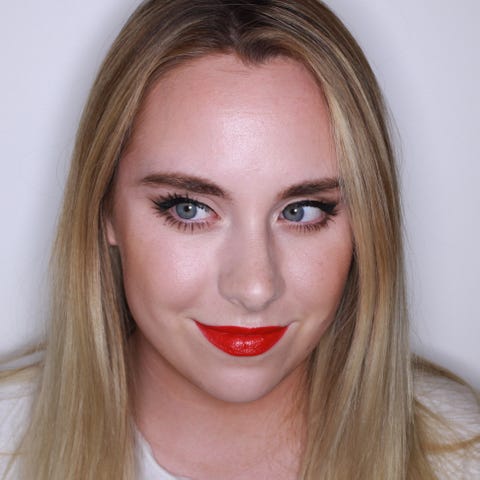 King of the Booth
So, which is which?
Look A - is the high street face. I used 14 products from the high street that cost a total of Dhs369.
Look B - is high end make-up only, and the 14 products came to Dhs2,725.
Let's take a closer look...
Face
Look A (high street):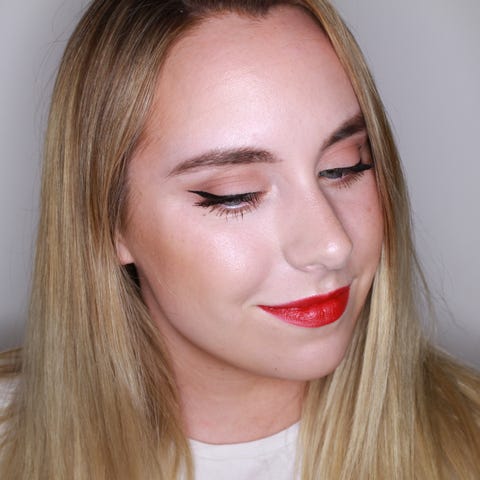 Look B (high end):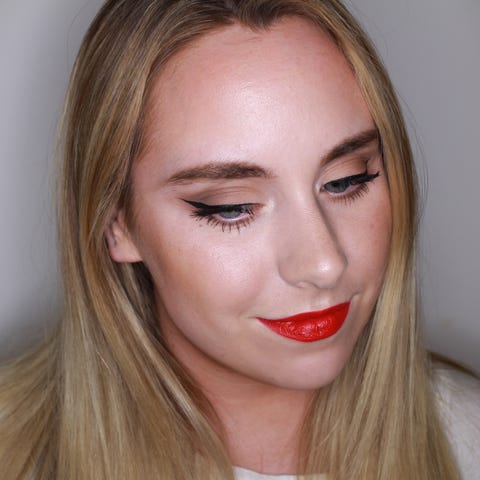 Products used:
Look A (high street): Maybelline Dream Cushion Foundation, Dhs66, NYX Professional Makeup Coverage Concealer, Dhs28, Essence Concealer Stay All Day Concealer, Dhs12, Bourjois Mat Illusion Bronzing Powder, Dhs38, Miss Sporty Insta Glow Blusher, Dhs14, Rimmel London Insta Fix & Matte Powder, Dhs24, Essence Strobing Highlighter, Dhs14
Look B (high end): Dior Capture Totale Dreamskin Perfect Cushion Foundation, Dhs294, It Cosmetics Bye Bye Redness, Dhs143, Sisley Eye Concealer with Botanical Extracts, Dhs299, La Mer The Bronzing Powder, Dhs309, By Terry Terrybly Densiliss Blush in Nude Dance, Dhs256, It Cosmetics Bye Bye Pores Pressed, Dhs119, Rodial Instaglam Compact Deluxe Highlighting Powder, Dhs247
Verdict:
I loved how my skin looked after using the Maybelline foundation, whilst it's staying power wasn't quite as good as Dior's, it still delivered A* coverage and left my skin looking bright and glowy. Also, it's worth noting that Dior's foundation is pricier because the formula is packed with skincare ingredients that help smooth out any texture and boost luminosity.
When it came to concealer I found NYX's Coverage Concealer (used in Look A) to be the star of the show, it hid eeeeverything, without creasing or caking.
Bronzer-wise it was tough. Bourjois' offering applied a little patchy and I found the shade a tad too warm for my ghostly-pale complexion. La Mer's multi-hued bronzer blended like a dream and it gave my skin a pretty glow. I hate to say it, but i'm a bronzer snob, so I'd pick La Mer every time - yes, even with the hefty price tag.
Eyes
Look A (high street):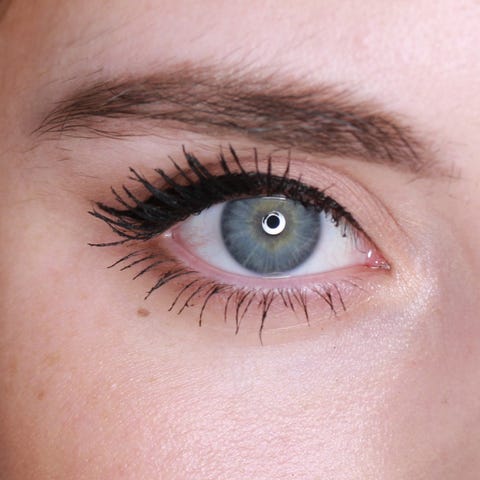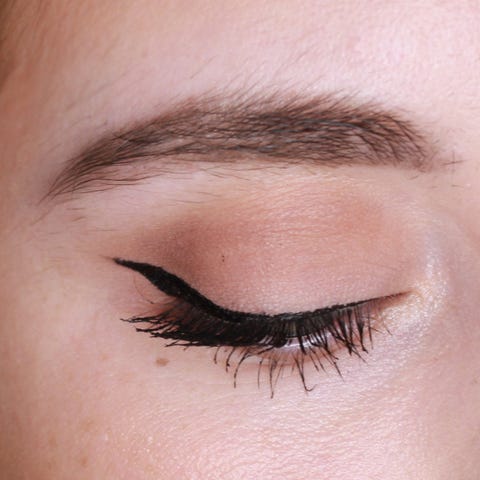 Look B (high end):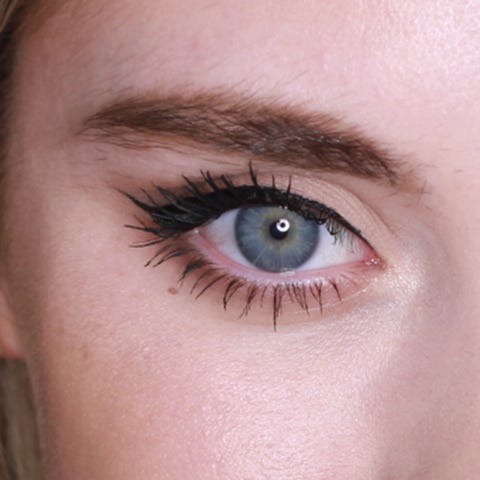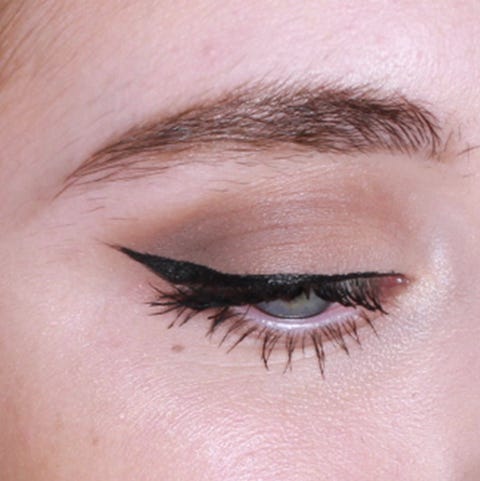 Products used:
Look A (high street): Bourjois Kohl & Contour Eyeliner, Dhs24, E.l.f. Studio Intense Ink Eyeliner, Dhs21, Collection Extreme Mascara, Dhs14, MUA Pro Base Eye Primer, Dhs12, E.l.f Studio Mad for Matte Eyeshadow Palette, Dhs59, Rimmel Brow This Way Fibre Pencil, Dhs24
Look B (high end): Benefit Stay Don't Stray Eyeshadow Primer, Dhs105, Tom Ford Eye Colour Quad in Cocoa Mirage, Dhs313, Bobbi Brown Long-Wear Waterproof Eyeliner in Black Chocolate, Dhs114, Tom Ford Eye Defining Pen, Dhs214, Diorshow Pump 'n' Volume Mascara, Dhs121, It Cosmetics Brow Power in Universal Taupe, Dhs90
Verdict:
I know, I know, I need to get my eyebrows threaded. Badly. But try to ignore ALL the stray hairs (if you can), and just look at the colour. I found the Rimmel brow pencil slightly ashier than the It Cosmetics one - which is something to bear in mind if you share my fear of orangey eyebrows.
When it comes to liquid eyeliner, I Tom Ford's was totally foolproof. The double-ended pen has a bristle brush on one side that makes quick work of applying a smooth line, and on the other end it has a teeny-tiny felt tip point, designed to help you draw on a super-precise wing. The cheaper option by E.l.f dragged a little as I applied it, which meant my eyeliner wasn't quite as smooth. But to say it's almost Dhs200 cheaper, if push came to shove, I'd probs go with E.l.f. and pocket the extra cash.
For eyeshadow I pitted Tom Ford against E.l.f again, but this time I'd 100% go with Tom Ford. The colour pay off from the shadows was 100,000 times better, they were easier to blend AND lasted longer.
Lips
Look A (high street):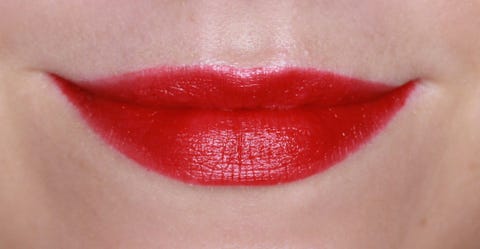 Look B (high end):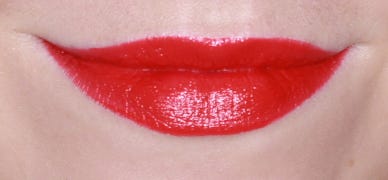 Products used:
Look A (high street): Collection Lip Colour in London Red, Dhs19
Look B (high end): Givenchy Le Rouge Lipstick in 325 Rouge Fétiche, Dhs126
Verdict:
These two shades are oh-so similar. Both are suuuper-bright reds and both leave a creamy shine on the lips. I found the Givenchy lipstick a tad dewier than the Collection one, which meant it kept my lips moisturised for a little longer. Other than that though, there was virtually no difference. 
What I've learnt:
Surprising, huh? Now I won't lie, I'll probs still drop an embarrassing amount of money on make-up, I can't help it. I have a problem. Plus, I think it's worth remembering that brands like Tom Ford, Dior and By Terry invest a lot of a lot of money into their formulas and ingredients. So when it comes to something like foundation - that sits on your complexion all day - it might be worth splurging the extra dirhams if it's going to benefit your skin in the long run. Overall though, it's good to know that you don't haaave to part with a load of cash when you go make-up shopping. Think of it like this, if you opt for look A, there'll be Dhs2,356 left in your wallet to spend at Zara.
H/T Cosmo UK