Acroyoga (and IRL) partners Alec Horan and Steph Gardner were practicing their moves on the beach during a recent trip to Oahu, Hawaii, when Steph, who was "flying" at the time, went into a full-back extension that brought her face-to-face with her boyfriend — and a marriage proposal.
Alec, a 25-year-old Philadelphia, Pennsylvania resident, presented a ring to 24-year-old Steph, from Asbury, New Jersey, in what might be the bendiest proposal of all time.
They even pull off the most amazing Superman kiss before returning to the ground: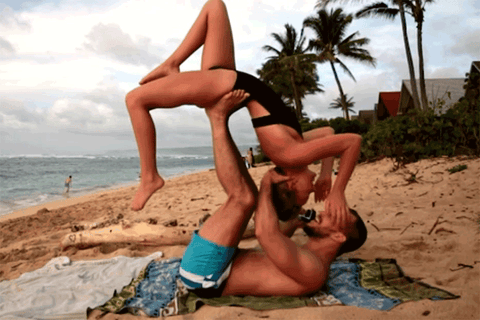 And as if that stunt wasn't magical enough, the dismount that followed was pretty perfect too: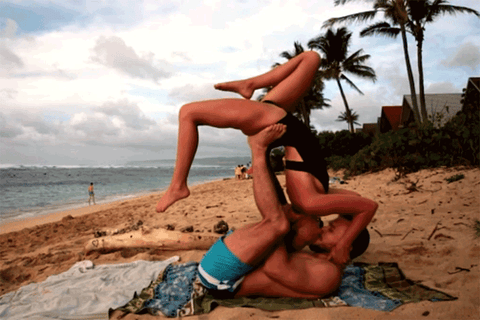 Although Alec and Steph, who met in college and had been practicing acroyoga together since they began dating two years ago, had hit this pose several times before, this was the first time they filmed it. Alec, an amateur photographer, often take pictures of their poses for Instagram.
This time, Alec told Steph he wanted film their flow and post it to YouTube. She wasn't suspicious, Alec says, because she wasn't expecting him to pop the question for at least another year. Meanwhile, though, Alex had bought a ring in November with plans to propose on their vacation. 
Because most gravity-fearing humans would fall face-first in this situation, some might find it hard to believe the video is entirely authentic. But Alec says Steph was genuinely surprised by his grand gesture.
"It wasn't staged," Alec said. "It was 100 percent genuine, and she had no idea. If anyone is inferring she knew, just look at the tape. Steph is extremely emotional. She tears up. I teared up."
Regardless, the couple's skills and creativity score them both major props. Here's to a lifetime of happiness for them both — and lots of super-bendy children.
Originally appeared on Cosmopolitan.co.uk