We've rounded up all of the best places to celebrate St Patrick's Day in Dubai this weekend...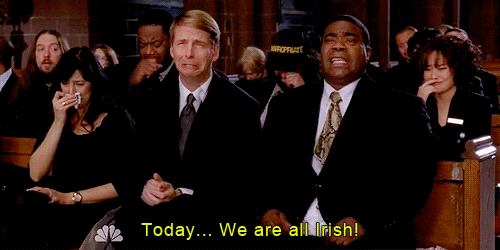 Jameson Live Vibes at Dusk Terrace, Radisson Blu Hotel, Dubai Media City
When? 7pm until 2am, Friday March 17
Billing itself as "an alternative St. Patrick's Day", head to the Jameson Live Vibes at the Dusk Terrace, Radisson Blu Hotel, Dubai Media City on March 17. The night has been created around "Sine Metu", the motto of the Jameson family, which translated means "without fear" and features music from Zeid Hamdan and The Wings and Ikill.
The best part? It will be free to attend for those who pre-register. Registration closes Thursday March 16, then walk-ins will pay Dhs75aed or Dhs100 after. 
Shamrock Burgers at Bidi Bondi, Cabana, Left Bank, Apres and Mr Toad's
When? 
All day, 
Friday March 17
Try something new this St Patrick's Day with a shamrock burger, available around Dubai. 
Made with freshly ground beef, tomato and fresh lettuce, the burger comes wrapped in a green shamrock shaped bun. All of the venues will be serving the burger throughout St Patrick's Day. 
Get a burger and fries at Bidi Bondi and Cabana, Dhs80 
Get a burger and fries at Apres, Left Bank Jacks Bar and Draft House, Dhs95 
Get a burger and a pint of Murphys at Mr Toad's, Dhs115 
McGettigan's Paddy's Day Party at Dubai Media City Amphitheatre
When? All day, 
Friday March 17
Leave it to McGettigan's to throw the ultimate Paddy's Day Party. The pub has taken over the Dubai Media City Amphitheatre for an all-day music festival celebration.
International artists Gavin James, Walking on Cars, The Coronas and The Stars Of The Commitments will perform throughout the day. 
Early bird entry to the event for adults will cost Dhs125 which includes a drink. Regular tickets
will cost Dhs150 plus a free drink. Families are welcome – kids under five go free, tickets for kids aged five to 16 cost Dhs75. Brunch tickets are also available for Dhs395, including unlimited food and drinks from 1pm to 4pm.
Original Wings & Rings
When? 
All day, 
Friday March 17
Original Wings & Rings has a great happy hour on Friday March 17, with selected bottles of hops available for Dhs25 from noon until 2am. Plus, during St Patricks Day, Original Wings & Rings is including bottles of selected hops in the Dhs99 brunch package, from noon until 4pm, or 8pm until 11pm.
Visit originalwingsandrings.ae
Three days of fun at The Irish Village
When? Thursday March 16 to Saturday March 18
The Irish Village is going all out and will be lit up in green this St Patrick's Day. Expect live music, DJs, traditional Irish music and dancers to keep you entertained all weekend long. 
The petting zoo, face painting and bouncy castle will entertain the kids all afternoon whilst you can sit back, relax and soak up a day of pure Irish craic on Saturday March 18.
Visit 
theirishvillage.com
Maison Mathis, Arabian Ranches
When? 
All day, 
Friday March 17
Maison Mathis at Arabian Ranches has an all-day happy hour on Guinness come Friday March 17. Plus, from March 13 to 19, tuck into culinary tributes to the Emerald Isle with Minced beef rolls, Irish salmon salad, Lamb and Guinness Shepherd's Pie and more. 
Visit maison-mathis.com
Wavebreaker, Hilton Jumeirah Beach Resort
When? 
All day, 
Friday March 17
At Hilton Jumeirah Beach Resort's Wavebreaker Bar & Grill get a XL St Paddy Burger and 3 pints of Guinness for Dhs175.
The team at Wavebreaker's have put together a perfect offer for the occasion – delicious, specially crafted green XL St Paddy Burger and three pints of Guinness for only AED 175. The juicy beef burger on a green bun, topped with egg, crispy bacon, fresh onions, tomatoes and crunchy lettuce accompanied with a pint is exactly what you need!
Visit hilton.com
Perry and Blackwelder's Original Smokehouse, Souk Madinat Jumeirah 
When? 
All day, 
Friday March 17
Perry and Blackwelder's has a host of deals this St Patrick's Day, including a bottomless glass of Tullamore Dew for Dhs100. Plus, they will be putting an Irish twist on their traditional American classics, expect will have a special menu with a selection of dishes that will only be available to order on St Patricks Day, ranging in price from Dhs85 to 195. 
Visit jumeirah.com
Reform Social & Grill, The Lakes 
When? 
From noon, 
Friday March 17
Reform Social & Grill is launching a new pie for the occasion! Head to the popular Lakes Club venue to tuck into the brand new a beef, mushroom and stout pie for Dhs105.
Visit reformsocialgrill.ae
Weslodge, JW Marriott Marquis Dubai
When? 
From noon, 
Friday March 17
Weslodge is hosting a St Patrick's Day Luck of the Irish Party –  with half priced Irish cocktails and Murphy's Irish Hops until 10pm. Green Hops. There will also be a special Irish dinner available, as well as festive giveaways to show off your inner-Irish.
Visit weslodge.ae 
Speakeasy, Ramada Plaza Jumeirah Beach 



When? 10pm until 2am, Thursday March 16
Kick off the festivities a day early at Speakeasy, Ramada Plaza Jumeirah Beach, with fantastic deals on food and beverages. Paint the town green at Speakeasy Bar & Restaurant with feet-tapping folk-music and festive Irish cocktails. From Shamrock Margaritas, Irish Julep and Irish Gold cocktails to delectable food options. Plus, there will be live music from Roadhouse band until midnight. 
Visit ramadaplazajbr.com

Saffron, Atlantis The Palm

When? 12.30pm until 4pm, Friday March 17
Saffron is known for it's all-out party brunch every Friday, but this week the Atlantis The Palm eatery is all about the Irish, with a St Patrick's Day theme. 
For Dhs535 per person, Dubai's partygoers will be saying 'sláinte' with some fun and innovative Irish inspired beverages and a delicious array of five star culinary options with a special St Patrick's Day twist.
Saffron will be transformed into a full-on St Patrick's Day party with bespoke décor, and guests are invited to join the Saffron brunch team to really get into the St Paddy's Day spirit by donning fancy dress outfits ready for the Friday fun that Saffron is legendary for.
Visit atlantisthepalm.com
Biggles Pub, Millennium Airport Hotel Dubai 
When? 6pm until 1am, March 15 to 24
Chill out with your friends at Biggles Pub. Seating both indoors and on the outdoor terrace with stunning views over the gardens and the pool, Biggles is not only an ideal venue for night entertainment but also a sports pub with over 17 screens and private booths for ultimate viewing of your favourite sport. Chef special signature dishes, steaks and selected drinks for only Dhs80.
Visit millenniumhotels.com
Dhow and Anchor, Jumeirah Beach Hotel
When? Friday March 17
Dhow and Anchor is hosting its annual St Patrick's Day celebration on 17 March with Irish dancing, music, Guinness for Dhs17 from noon until 7pm and a selection of traditional dishes.
Visit jumeirah.com/dhowandanchor