CBS
The whole of the UAE seems to be jetting off to somewhere exotic right now. At the time it's all fun, games and Instagram gold. But coming back can be a jet lag drag. Want to figure out how to get your shut-eye back on schedule after a long haul adventure? There's no one-size fits all approach, but it can be done - especially when you've got the wisdom of a sleep expert on your side.
'Getting back into your original sleeping pattern is no mean feat,' admits Holly Housby, who works with Sealy UK, the world's largest bed manufacturer (and therefore knows more than a little something about a good night's sleep). 'It takes time, and you can't rush it, so be patient and try practising a mindful bedtime routine.'
'Don't panic, as this will just make it harder to slot back into your usual sleep routine. Getting over jet lag is a gradual process, on average taking around three days, but it can be helped along.'
From the right foods to eat to the best times to fly, we've got the lowdown on stealing your sleep back from the clutches of jet lag. Eye masks at the ready...
1. Travel wisely
One of the first (and best!) defences against jet lag is the time of your flight. "Try to book a flight which lands during daylight hours," Holly advises. "Once you have arrived at your destination, go outside and do some exploring. The natural daylight will gradually help your body adjust to a new routine."
"It's also best to try and sleep throughout your flight so your body can get as much rest as possible to cope with the effects of jet lag when you land."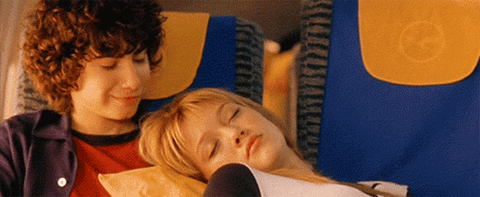 Via Giphy/Disney
2. Cut out caffeine
Caffeine seems like the obvious tool to help you to manage the symptoms of jet lag (you know, the super-fun tiredness that makes you want to cry and punch people simultaeneously), but Holly reckons you should give it a miss if you want to settle back into a proper pattern quickly.
"Drinking too much caffeine before bed can cause a restless night's sleep," she says. "While caffeine can help you stay awake in the day, drinking too much of it will inhibit your ability to sleep at night, and getting back into your sleep routine as quickly as possible is key to beating jet lag."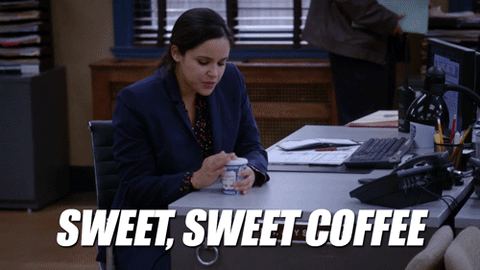 Via Giphy/Fox
Still need a hot bev fix? Try chamomile tea, which increases the levels of amino acid glycine in the body, causing your muscles to relax. "The anti-anxiety effects of glycine mean that chamomile tea is excellent for calming any stressful thoughts that affect our ability to get to sleep," she adds.
3. Eat a banana
"Bananas can be helpful when battling jet lag due to the naturally high amount of amino acid, tryptophan, that they contain. In addition to the sedative effects of tryptophan, bananas contain high levels of magnesium and potassium which work to relax the muscles," Holly explains.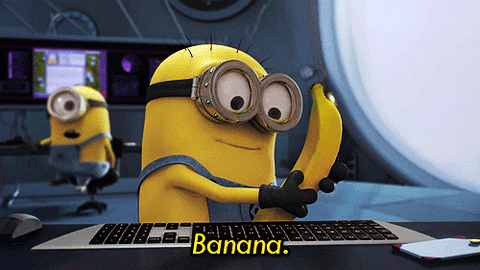 Via 

Tumblr
She also recommends oats and milk, both of which are a natural source of melatonin, the hormone that regulates our sleeping and waking cycles. Building a bowl of banana porridge into your daily diet post-holiday could cut your jet lag struggle much shorter.
4. Ditch the screens
Obviously a comfortable and supportive bed is a key element of a great night's sleep, but there are tons of other smaller tweaks you can make to your room to improve your chances of dropping off naturally - and leaving your phone outside of it is the biggie.
"First and foremost, turn off any electronic devices and keep your room cool and low lit," Holly details. "Put away any cases or piles of clothes too as this will help promote a calm environment. If it's particularly hot, go to sleep solo to help you keep cool.
"You can also use aromatherapy oils in the space, which will help you to unwind and switch off much more easily."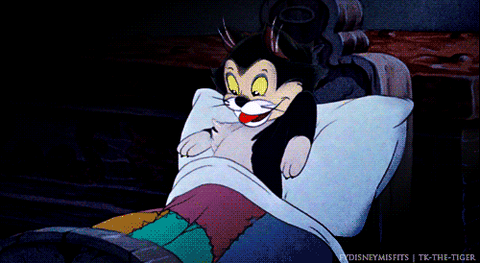 Via Giphy/Disney
5. Stop napping
In an ideal world, Holly's advice is to give naps a miss altogether: "Although it may be tempting, and seem like the perfect way to get an energy boost, napping could stop you from sleeping as well through the night."
However, if the droopy eyelids are becoming truly overwhelming, she says you can have a very quick sesh under the sheets if necessary. Just try to limit it to 10-20 minutes and no more - a sprint rather than a marathon, if you will.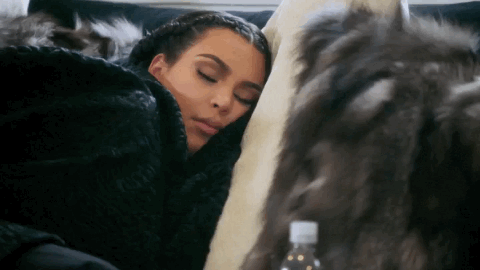 Via Giphy
6. Don't force it
Sleeping pills and other similar remedies are often recommended as solutions to jet lag, but Holly points out that sleeping pills don't actually help you to recover; in fact, they'll probably leave you feeling drowsy and even more lethargic instead.
There are other, more natural solutions, like lavender spray; This Works Deep Sleep Pillow Spray, Dhs85, is often lauded as a miracle product for this purpose, and plenty of other products at different price points that offer a similar scent.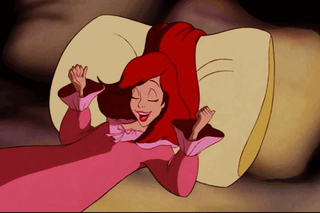 Via Giphy
7. Relax
"Resist the temptation of lying in bed watching television or checking work emails by instead opting for a soothing bubble bath, delving into your favourite book, or listening to relaxing music," Holly instructs.
"Trying some breathing techniques would be highly beneficial in helping you fall asleep. Close your eyes and concentrate on slow and steady breathing – inhaling through the nose and exhaling through the mouth."
"Think counting sheep, warm milk, hot baths and you're along the right lines."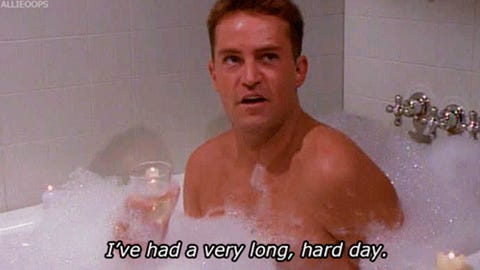 Via YouTube
Originally appeared on Cosmopolitan.co.uk